4 Tips For Choosing Jade Buddha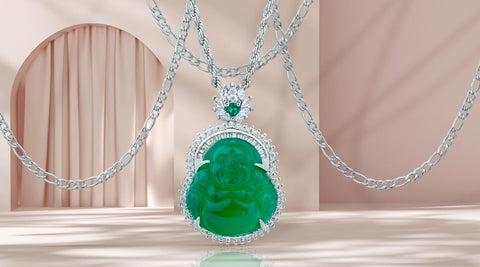 Jade Buddha is a collective term for jade Buddha pendants, jade Buddha pendants, and jade Buddha ornaments. Most of them are based on the image of the big-bellied Maitreya Buddha. The Jade Buddha is a perfect combination of "Jade" and "Buddha". It has the warmth and transparency of jade and the aura of Buddha, which comprehensively reflects many benefits.
If you're in the mood to buy a Jade Buddha as a gift, there are a few things to keep in mind when choosing a Jade Buddha. 
1. The Appearance of the Jade Buddha
The appearance of the Jade Buddha is the appearance and demeanor of the Jade Buddha, which is often described by the engraver. Everyone loves a good-looking person in daily life, and the same is true for the jade Buddha. Buying a good-looking jade Buddha not only feels refreshed when you wear it, but also enhances the value of the jade Buddha, and can even be passed on from generation to generation. When we buy a jade Buddha, you should choose the ones with correct facial features and symmetrical proportions.
2. The Color of the Jade Buddha
The color of the Jade Buddha is beautiful in its uniform distribution. If the green of jadeite is distributed in dots, flocculents, lumps, filaments, etc., 
3. The Material of the Jade Buddha
Regardless of whether the material of the jade Buddha is jade or Hetian jade, it is the best product without blemishes, and the finer the texture, the better the quality, and the more perfect Buddha statues.
4. The Size of the Jade Buddha
The jade Buddha is not as big as possible. As long as you are pious and sincere, you will be blessed by the Buddha no matter how big or small the jade Buddha is. Therefore, you should choose according to your economic situation. For example, if you have a shorter body, choose a smaller one when choosing the Jade Buddha, so that it can match the body proportions properly.